"Black metal band Gorgoroth, made up of members "King", "Kvitrafn", "Gaahl" and "Infernus", gave Polish TV far more than they bargained for."
In America, Janet Jackson's floppy booby causes people to freak out and start screaming about decency and moral decay. In Catholic Poland, it apparently takes Norwegian Goths doused with sheeps blood and running around with decapitated sheep heads on sticks while nubile you Vikingettes are hanging bloody from crucifixes. Unfortunately, Poland also has theocratic laws, so they could be charged with religious offenses.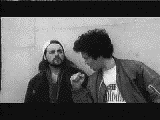 MY LOVE FOR YOU IS LIKE A TRUCK, BERZERKER!
WOULD YOU LIKE TO MAKING SOME FUCK, BERZERKER!